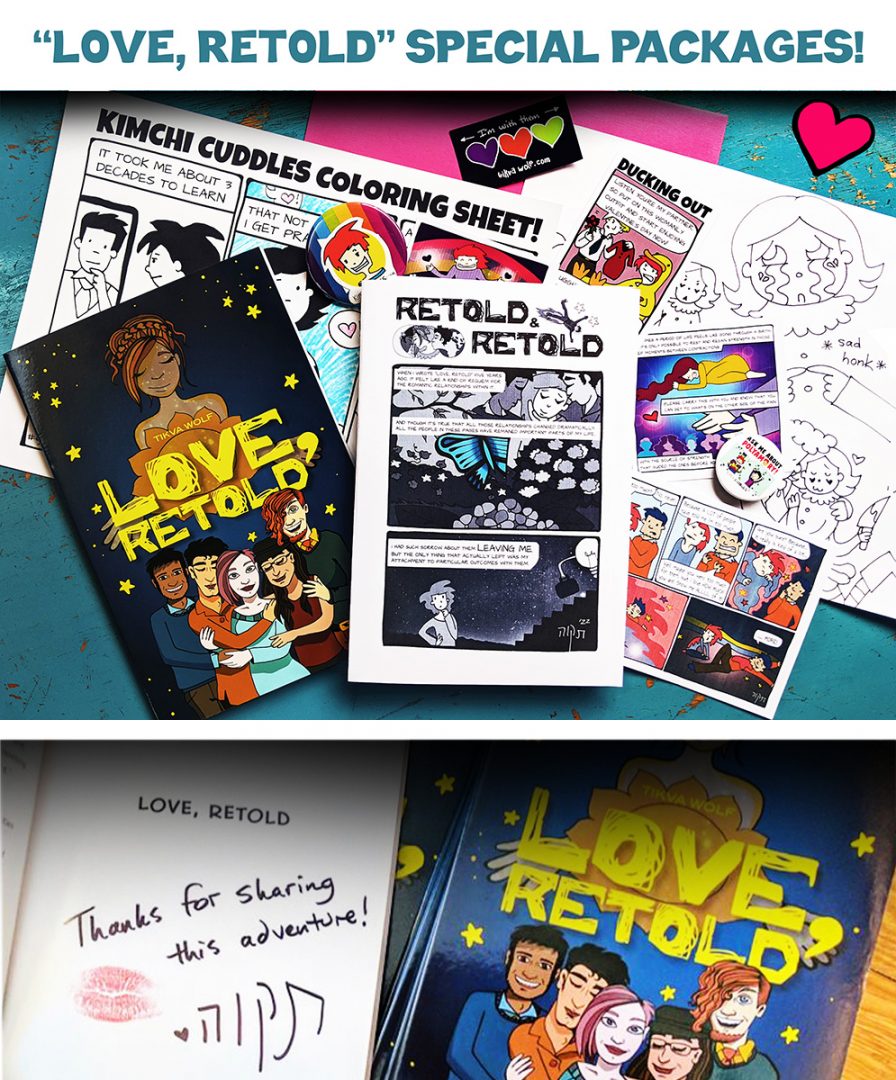 "Love, Retold" is going out of print and I decided to let it go out with ONE LAST BANG. So I'm making little love packages with signed copies of the book, a comic booklet with "5 years later" reflections on the original, a handful of stickers and original artwork, and other random stuff so each package will be a little bit different. I wrote this book during a special time of transition, and I feel like I'm in another one now. I deeply appreciate all of you for being on this adventure with me, and this is more a gift of love than a "sale".

Cost depends on # of books and country you're in.
To get started, email me at weeteawolf@gmail.com with:
– Address I should mail the book(s)
– Name(s) you want me to sign them to
– If you can do venmo or paypal
– Favorite colors/activities/things to inspire what random things I'm including for you.
Ask Me About Polyamory
If your relationships or your gender are unconventional, you'll find useful advice and plenty of laughs in this compilation of the wildly popular webcomic Kimchi Cuddles.  Quirky, endearing and charmingly (and sometimes painfully) realistic characters, many based on real people, explore polyamory, queer and genderqueer issues. Covering practical matters like time management and serious topics like discrimination, this book unites the best of two years of Kimchi Cuddles comics, organized into a practical and entertaining guide to the real world of alternative relationships.
Kimchi Cuddles is a rare mix: fearlessly true to the lives of the people it depicts yet relatable enough to entertain and inform anyone (maybe even your parents). Dealing with both lighthearted and serious subject matter, it avoids clichés and easy answers, choosing instead to give examples of different schools of thought and show the humanity behind each one. Wolf's honesty and gift for clear explanation have made Kimchi Cuddles a hit with the most dedicated polyamorists as well as curious newcomers.
Love, Retold
Tikva Wolf has witnessed love transcend and evolve beyond the rigid, traditionalist trappings of the fairy-tale romance. Love, Retold is a meditation on love and companionship for people who don't remember feudalism. These stories capture key moments in relationships, reflecting on the murkier, tenebrous aspects of love. These stories illuminate and revere uncertainty, confronting the realities of mismatched needs and desires with compassion and self-reflection. In a world obsessed with beginnings and endings, this is a book about middles.
It's OK Feelings, I got you
Adapted from Tikva's Therapeutic Comic Drawing class, the book provides readers with a guide for making comics as a means of presently engaging their experiences and moving forward conscientiously. By noticing actual experience, rather than suppressing or reframing it, participants are able to better grasp the options available to them and make the best choice that does the most with what they have.