Games and Toolbox!
If you benefit from any of my free resources and are able to, please
support my ongoing work by joining my Patreon Page. Thank you!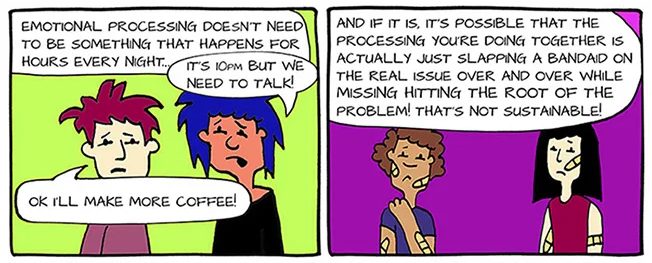 POLYCULE ORBIT is a creative communication tool that can be used 1-on-1, in larger groups, either in person or over distance. You can also play in Solo Mode to gain deeper insight and clarity on a specific topic! I created this game with assistance from trauma-informed therapists in attempts to counteract any sneaky oppressive power dynamics that might come into play during vulnerable communication. Incorporating role-play, movement, stream-of-consciousness explorations, and other useful ways of communicating deeply that don't require being super-serious about it, this tool is designed to delve deeper into anything you wish to share or understand!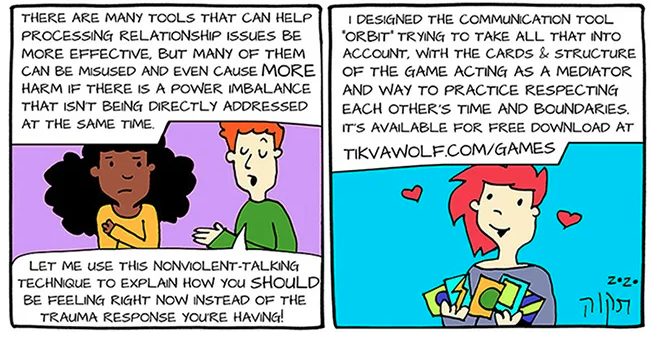 ::MAKE SURE YOU PRINT DOUBLE-SIDED::
If you do not have a printer or prefer to play digitally, there are instructions on how to play using only the PDF document (click download for instructions).
::MINI:: POLYCULE ORBIT is an adaptation using dice instead of cards, and focusing on playful group connection, either in person or over distance! All you need is this PDF, and a D4 & D12 (or online dice emulator). For 1-on-1 or larger group connection. 
POSTER DOWNLOADS!
What's the difference between Rules, Agreements, and Boundaries?
This mini poster might help clear things up! DOWNLOAD HERE
Get some clarity about your relationship needs with this helpful flowchart!
DOWNLOAD HERE
"What Does Consent Look Like?" COMIC POSTER.
Available in English, Spanish, French, and German. DOWNLOAD HERE
NEW: "Consent Cat & Bad Boundaries Bunny" Poster 2021
Appropriate for ALL ages! Available in English and French.
DOWNLOAD HERE